Who wouldn't want to make the Holiday Lane pillow so generously provided by Jill at
Jillily Studio
? So of course I had to sign up for this blog hop. :) Just in case you've forgotten here's a picture of Jill's Holiday Lane.
As much as I loved hers I knew I wanted to use fabrics I already had - I'm trying hard to do that (and if my friends tell you different don't you listen!) - so I started pulling boxes out of the stash closet. Then I saw it....a huge bin of wools. Maybe two bins. Maybe two bins and half another. Can we say addicted? So I dumped the whole thing, or two, or two and a half. Whatever. And reorganized the whole thing, because I'm a bit OCD that way. And after sorting and fusing and cutting and stitching, this is what I came up with:
I looked at the pattern. I looked at Jill's pillow. I looked at my pillow. I loved that flange. I really loved that flange. But since most everything I make is more on the simple side and I was really stretching myself to add buttons to this...yes, I know but I'm not exactly a sequin and glitter kind of gal...I decided just to bind mine. A plain old-fashioned binding.
The next task was to stuff it. I might have gotten a bit too much stuffing in it and even though I sat on it (don't you say a word!) it didn't flatten much.
When you have a fat pillow it's hard to get a picture of the top and bottom at the same time.
My topiarys wanted to lean, and I could hear my mother's voice saying, "Stand up straight girls!" And my snowman was a bit shy and tried to hide down on the bottom. But after taking pictures by the fireplace, in the loveseat, in my sewing chair, outside on the glider and the lounge and the cushion box, with and without reflectors I got a few of the details that you might want to see.
I added the Star because the birth of Jesus is the reason we celebrate this holiday at all! And I had to have Santa and a couple of reindeer because my grandchildren would ask where they were. :) And look at that smoke...doesn't it look real? It's a bit of cotton out of a medicine bottle glued lightly. The star was bought in the craft section of my local fabric store and hand stitched on....I added the rays with a metallic gold thread.
I added the bird because, after hearing my mother's voice scolding the topiarys, I just had to add a reminder of her - she loved birds, any kind, but she loved redbirds most of all. I know you think those bits of thread were overlooked....but I'm pretty sure that redbird needs them for her nest. :)
I stitched red glass beads onto the trees for decorations. Did you know that glass beads roll off your lap if you try to put them there? And they also roll off the ottoman, the arm of my sewing chair, and the pillow top. I'm sure you can picture me crawling around on my hands and knees trying to recover them. :) The "lights" on the eaves of the houses are also glass beads, a sort of cylindrical shape. They roll too.
This little door need a bit of color so I added a holly button. The doorknobs are a satin stitch using a gold thread.
There's that shy snowman!
Here's a little better view of the gold "lights" on the eaves and of the candy cane widow decoration.
And in a variety of settings the final product!
But my favorite place is in my sewing chair...
Thanks so much to
Madame Samm
for the dream of these blog hops and
Jill
for the wonderful pattern, but most of all thanks to
Paulin
e who, even while she was sick with the flu, put it all together and managed it for us.
And for those of you who are still reading this looooong post, I have a giveaway for you. How about a charm pack of Blitzen...that's fitting, isn't it? :)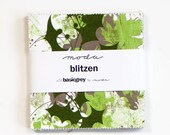 Just leave a comment for a chance at the drawing, and if you're a follower leave a second comment telling me so. Sorry, no international shipping on this one. I think that would probably cost more than I paid for the charm pack!
And now, or after you comment, go visit the rest of the hoppers! Here's the schedule: